Rare Gold Silver Ratio Cross Suggests Imminent Breakout In Silver
Authored by Author of The End Game Investor via seeking alpha May 11, 2021 10:58 AM ET.
Summary
Gold bugs know gold bottomed at $1,673 on March 8, but what has gone unnoticed is a key technical cross in the gold to silver ratio on the same day.
On March 8, the 50WMA crossed below the 200WMA in the gold to silver ratio for only the 4th time in 31 years.
Every time this has happened since 1993, silver went on a huge run. This next one could be the biggest of all since 1980.
On a related note, priced in CRB commodity index terms, silver has actually outperformed gold since 2003.
March 8, 2021 was a big day in the precious metals markets. Most gold and silver bulls know it as the day that gold bottomed (so far) at $1,673. But something arguably much bigger in precious metals was happening on that same day, and much less noticed.
Mind the Gold to Silver Ratio
On March 8, for only the fourth time in 31 years in the gold to silver ratio, the 50-week moving average crossed below the 200-week moving average. See the long-term chart below, black circles. In this chart, the lower it goes, the more bullish for silver.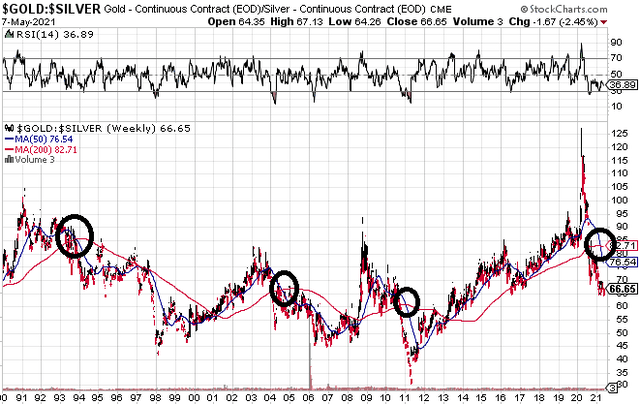 The four crosses since 1990 were in 1993, 2004, 2011, and 2021. Here's what happened the last three times this gold to silver ratio cross took place, starting from the week of the cross until the ratio bottomed out. Notice that every time this happens, developments speed up considerably from the time before.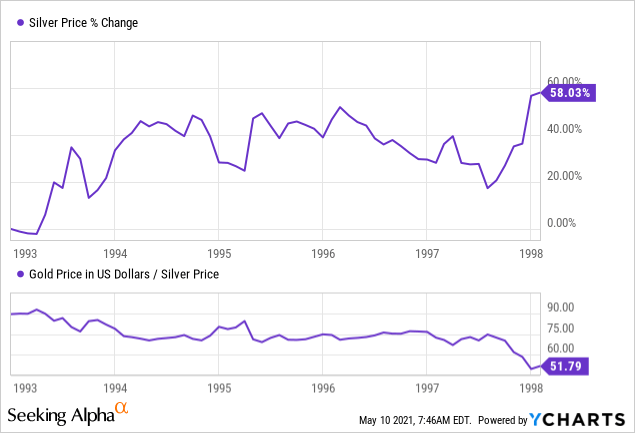 The first time this happened in 1993, the process took just over four years to play out, and gold did not participate. Silver climbed over 70% from $4.34 to $7.40, but gold actually fell 21% from $373 to $296.
The process doubled in speed when it began again in 2004, taking only two and a half years from the cross to a new top. From 2004 to 2006, silver more than doubled at the time from $6.54 to $13.66 as the gold to silver ratio finally bottomed. For its part, gold rose over 50% during the same period, from $393.50 to a high of $641, see below. Top chart gold and silver, bottom chart gold to silver ratio.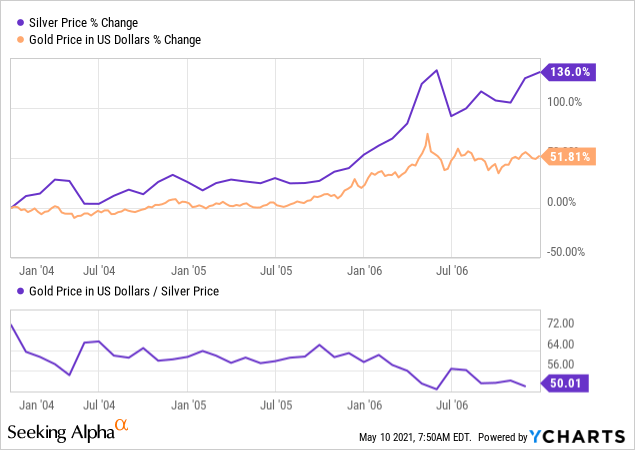 The 50WMA in the gold to silver ratio crossed below the 200WMA once again in January 2011. From there it took only three months for the ratio to bottom out and silver to climb another 74% to just below $50 an ounce, its all-time high from 1980.
We are now two months in since the last cross. Silver has climbed 11% so far, and gold about the same at 10%, from a bottom of $1,673 to $1,844. Historically, silver should move a lot faster from here compared to gold.
How can we explain the differences in speed for these four post-cross periods? Here's an attempt. The mid-90s was not a particularly price-inflationary period. The dollar index also was relatively stable. The annual CPI inflation rate was less than 3% in those years, bottoming out at just over 1% in 1998 concurrent with the Asian financial crisis and rush to the dollar at the time.
So why did silver move at all? Probably because it had been in a severe bear market since its inflationary panic top at $50 in 1980, and finally bottomed 13 years later in 1993. The transition out of that bear market was slow and gradual, and resulted in an initial move of 70% in about five years.
This process repeated in 2004, this time with the help of a collapsing dollar index. We could say it was silver catching up with a precipitous decline in the dollar index that had begun in 2002. Before silver started moving again, the dollar index had already fallen a whopping 27% in the two years between 2002 and 2004. Silver then spent the next two years catching up to that reality, basically doubling. CPI inflation had been steadily climbing at the time, from an average of about 2% in 2004 to about 4% by the end of 2006. Not extreme, but on the move.
By 2011 the monetary picture for the dollar had deteriorated significantly. CPI was averaging about 3.5% annual at the time, still not so extreme, but the dollar index was challenging all-time lows at 73. On the back of a very low dollar, silver was able to break out to $50 in only a few months after the cross.
What does the 2021 silver cross portend? We can see from the chart below that the area we are in now, around 66, is a very long-term pivot point in the ratio.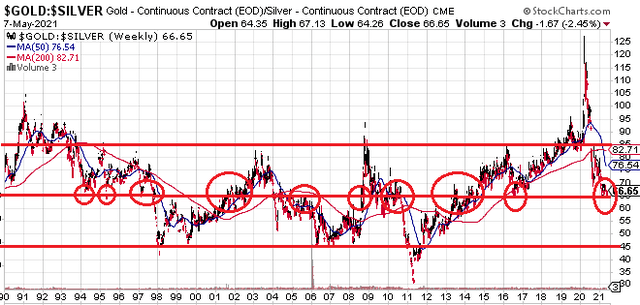 A sustained break below the 66 level, together with a weak dollar index challenging major support at 88 and fast increasing CPI price inflation statistics, could easily bring a combination of 1980 price inflationary and 2011 low-dollar-index factors pushing silver much higher past nominal highs of $50 this time.
Silver in a Long-Term Bull Market in Real Terms Since 2003
What about silver's "moneyness?" Meaning, what about its real purchasing power, in terms of real goods? Surprisingly, on this metric silver has performed even better than gold since the turn of the millennium. Silver is still quite the money in terms of its stability in that sense. The "volatile" metal is actually much less volatile than it seems when you look at it in terms of other commodities.
Believe it or not, since 2003, silver's real purchasing power priced in the CRB commodity index has increased about 6.6x (0.0198 to 0.13) compared to gold's 6.2x: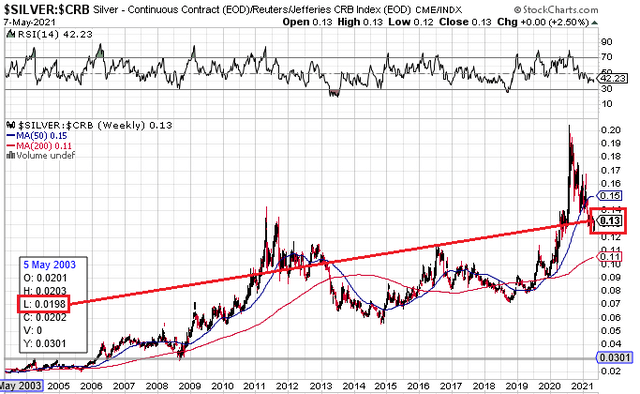 Here's gold, increase in purchasing power from 1.42 to 8.85.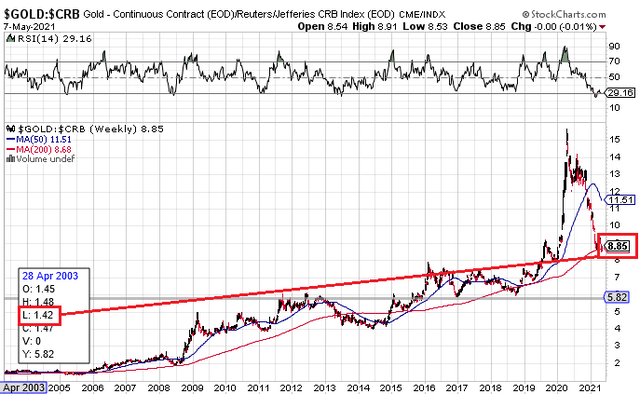 True, if you point to the nominal dollar price then yes, silver hasn't moved much over the last 30 years. But the bull market in real terms is clear and obvious and sustained. We've got plenty of room before we reach 1980 lows in this ratio. A surprisingly high print in the CPI inflation measure this week could light the fire that will eventually push silver to new nominal highs above $50 after over 40 years of languishing in the investment sewer.
---